Thanks to our innovative business model and advertising partners, Nextbike Cyprus is able to offer you the most economical way to travel around Limassol. Whether you want to rent a bike for an hour, a week or a month we have some great prices for you!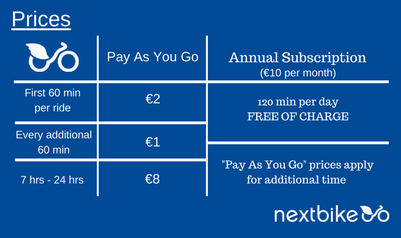 €2 first hour
€1 per ongoing hour
€8 for 24 hours
€50 for 1 week (7 days)
€180 for 1 month (30 days)
Payment
To rent our bikes you must first register online. Nextbikes accept payment via credit card, direct debit or cash (customer card) the latter of which can be completed at our office. If you choose to use a credit card you can use the bike rental system immediately, whilst activation of your account using direct debit may take up to three days. For the purposes of verification you will be charged €10 which will be credited directly to your Nextbike account.
The Nextbike customer card is a great option for customers wishing to pay in cash or for frequent users. The customer card is like your very own Nextbike credit card which you can recharge any time you like!
2. Complete all the sections of the form
3. Attach a copy of your ID card/ passport and a recent utility bill in your name.
4. Sign a formal declaration accepting full responsibility for any damage caused to the bike rented in your name plus the terms and conditions of the agreement.
5. Finally, you are required to pay 10 euros to order your card.
6. You can pick your card up from our office or we can post it to you.
You can top up your card at any branch of the Bank of Cyprus using the following account:
BANK OF CYPRUS
Nextbike Cy Ltd
Account Number: 357016837267
IBAN: CY61-0020-0195-0000-3570-1683-7267
SWIFT CODE: BCYPCY2N
Note:
With each credit to your account, you should use the phone number with which you have subscribed to Nextbike CY Ltd.
New Service Call & Go
Now top up your nextbike account with a call to 909-500-74!
Landline: € 12, 20 / per call
Mobile: € 12, 45 / per call
The amount of €13 will be credited to your nextbike account instantly!
Liability
In the event of damage or theft, a fine of maximum 75€ and 500€ accordingly shall be imposed upon the offender. In the event of gross negligence or any premeditative damage incurred, the offender will be held liable to the full extent of the law. The bike is your responsibility from the moment you receive your combination codes until our service team has checked the bike or until somebody else rents the bike. Spot checks can happen randomly (48 hours at the most after the return of the bike).