Enaerios!
13.07.2017
History Time! Did you know that …?
Enaerios!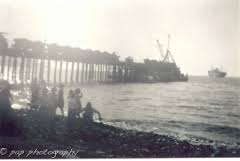 Another popular nextbike station is located just by the Enaerios pier, another historic monument of Limassol!
Back in the early 20th century the village of Amiantos (located in the Troodos mountain and the name of which actually means "asbestos" in Greek), was the site of a large asbestos mine. The mining operations at the time employed many people as there was a lot of manual labor involved for the extraction and loading of the asbestos.
Enaerios, which actually means "aerial" in Greek, was initially built to transfer the asbestos from the Amiantos mine!
The asbestos was loaded onto aerial cable 'wagons' / 'vehicles' that came from Amiantos all the way to the beachfront of what we know as the Enaerios pier. The asbestos would then be loaded onto barges for transport to the ships!
The Enaerios wooden pier has of course been restored since then and the area has been a popular destination for coffee shops, restaurants and bars for a few decades now.
So, next time you rent or return your nextbike from or to our Enaerios station, take a moment to ponder over and imagine how different everything was not so long ago!!